From design to color proofing, printing directly on the printed paper is possible!
We offer two types of color proofing systems that prevent process reversals with a consistent finished image.
Highlights
On the day of the event, we will actually use actual equipment to show you the texture and its quality.
We will offer a one-stop service, including support, so please stop by and see us.
Product Information
Color proofing system for gravure and flexo flexible packaging Direct Color Proof Type-R
The features of this product are as follows
(1)Various applications
Direct printing on base film (OPP, CPP, PE, etc.) is possible. Samples and proofs for printing can be quickly created to determine the design in a short period of time.

(2) Expanded color gamut
In addition to CMYK, clear, white, and primer inks, orange and red have been newly added for vivid reproduction.
The color gamut has been expanded by approximately 20% compared to conventional four-color printing, and the number of Pantone colors covered has also been increased.

(3) Newly developed print head and LED lamps
The new print head controls ink ejection more finely and optimally. In addition, the new LED lamps with greatly improved power can cure and fix the ejected fine ink in a shorter time. This enables the reproduction of small characters, fine textures, gradations, and other details in high definition to achieve a higher grade of printing quality.

(4)Newly developed "ECO-EUV5 ink
High image quality with expanded color gamut and significantly lower cost (approximately 43-57% less than conventional inks)
The newly developed EUV5 ink, which includes CMYK, clear (transparent), white, and primer inks, as well as new orange and red inks, is used. The EUV5 ink, with its expanded color gamut, can be used not only for vivid full-color printing, but also to produce eye-catching graphics when used in combination with True Rich Color3, a printing setting that maximizes the potential of the new ink. The new ink is significantly less costly than conventional ink, and its odor is suppressed for improved safety.

(5) GMG Open Color
This is a color management software that can reproduce colors by combining process and special colors, or by combining special colors with each other, which is not possible with other companies. This software is useful for color proofing in the paper packaging and flexible packaging industries, where many special colors are used.

(6)Reliable Support
We will set up two profiles that match the print samples and JapanColor at the time of installation, and will provide educational guidance.
We recommend a 5-year maintenance contract with parts replacement for UV printers.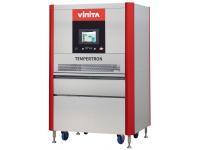 Color proofing system for the paper packaging industry Direct Color Proof Type-M
The features of this product are as follows
(1) MP ink for media-free printing
MP (multi-purpose) ink combines up to 50% plant-derived ingredients in a solvent-based ink, enabling printing on a variety of materials. Since MP ink dries gently in warm air at low temperature, ink spreads on the surface of the media and penetrates and fixes appropriately, resulting in a natural finish with little unevenness on the printed surface. Surface treatments such as foil stamping and PP application can also be easily fixed.
The ink is strong against bending and stretching and is firmly fixed, so it is very strong for post-processing.
Ink cracks are less likely to occur when creating mock-ups.
Printable on evaporated paper and milk carton paper, which are difficult to print with other inks.
Compatible with vacuum molding and thermoforming processes.

(2)Advantages of introducing the DCP system
The DCP system allows for the creation of mock-ups on paper, making it possible to create a presentation that is close to the finished product.
Color proofing using the original paper
Color stability unique to inkjet printing
Equipped with a calibration function
Cost reduction by bringing in-house instead of outsourcing flatbed proofing

(3) Full support services
Color management for each media and printed materials
Profile creation service
Trouble support after operation