Nissha Co., Ltd.
Booth Number:

W4-18

Contact Dept.:

Sustainable Packaging Group, Industrial Materials Business Unit
Sustainable Materials
Highlights
Our sustainable materials are molding solutions of bio-based materials with leveraging our plastic molding technology and know-how in order to contribute to realize the sustainable world. Our sustainable materials consist of bio-based materials to reduce petro-based plastic to carb global warming by increasing CO2 and preserve environment from plastic litters. Please visit our booth to see our sustainable materials to realize the sustainable world together.
Product Information
PULP MATERIALS
Pulp Materials consist of only pulp-based materials to replace plastic. To use pulp-based materials enable to solve environmental issues (eg. global warming, environmental pollutions).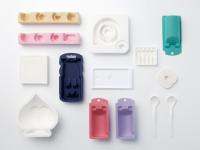 GREEN HYBRID MATERIALS
Green Hybrid Materials is bio-composite materials to reduce petro-based plastic. Materials composited ratio varies based on a kind of materials. As maximum, we can mold 100% biomass composited materials.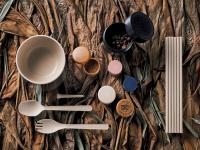 Target Industries
Dried Noodle
Dried Product
Dried Food
Processed Meat
Frozen Food
Retort Pouch Food
Microwaveable Food
Canned Food
Long Life Food
Disaster Storage Food
Health Food
Seasonings / powdery
Seasonings / Liquid & Viscous
Nursing Care Food
Infant Food
Candy
Chocolate
Caramel
Chewing Gum
Cookie
Rice Confectionery
Snack
Bean Confectionary
Fresh Sweets (Wagashi)
Sami-Baked Sweets
Tablet Confectionary
Nonprescription / Powder & Granule
Nonprescription / Tablet
Nonprescription / Liquid & Viscous
Prescription Drugs
Medical Implement
Skin Care
Makeup
Liquid Cosmetics
Cosmetic Articles
Hair Care
Hair Color
Face Care
Soap
Liquid Soap
Shaving
Mouth Hygiene
Logistics / Land, Sea & Air
Warehouse
Mass Retailer
Supermarket
Convenience Store
Online & Mail Order
DIY Store
Small Machinery
Parts
Electronic Goods & Parts
Small-Sized Equipment
Small Domestic Appliance
Information Equipment
General Household Article
Hygiene Paper
Hygiene Medical Care
Detergent for Clothes
Detergent for Kitchen
Detergent for House
Aromatic Substance & Deodorant
Insect Repellent & Insecticide
Dehumidifying & Drying Agent
Toy
Electronic Toy
DIY Product
Stationary
Sports Goods
Pet Goods
Pet Food
Exhibit Categories
Paper / Paperboard
Paper-based Containers / Paper tubes
Plastic Films / Containers
Molded Plastic Products
Caontainers Made of Natural Materials
Shock Absorbing / Partitions
Functional Materials
Secondary Packaging Materials
Environment-friendly Packaging
Designs
Product Planning / Marketing