SIMCHENG Plastics Machinery Co., Ltd
Booth Number:

S1-02

Contact Dept.:

TOKYO SIMCHENG Co., Ltd.

Stable quality is the soul of SIMCHENG Cast film line. In the era of product experience winning, good service is the best marketing way of SIMCHENG Brand, which is also the advantage point approved by customers. SCIMEHENG stands in the global vision, connecting the world's industries, with the tough stability as the international business card, with the high quality service for the global industrial benefit empowerment.
Highlights
Soft Food Packaging, Automotive and Safety Glass for Buildings, New Energy, Hygienic Materials and Environmental Film. The main production includes: CPP and CPE, EVA solar battery encapsulation, PVB automotive glass interlayer, high-barrier multilayer co-extrusion film lines, and BOPP biaxial oriented film lines.
Product Information
Flexible packaging film line
Mainly used in the packaging industry of food, materials and consumer products. The film produced by casting technology method have excellent performance like small variation, high transparency, suitable for metalizing and printing.
Product width: 3200mm-6300mm
Thickness: 0.02mm-0.08mm
Running speed: 180-250m/min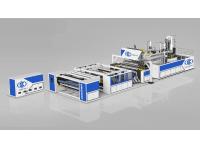 Sanitary film machine
The sanitary film is used for baby diaper, ladies sanitary articles, incontinent articles, waterproof mat , protective clothing, etc.Product width: 1600mm-3200mm
Thickness: 14-40g/m2
Design speed: 250m/min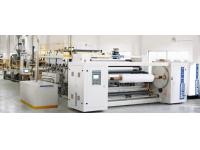 New energy film line
Mainly used for solar laminate glass, glass interlay film, packaging film,medical film, laminate film, casting film, hot melt adhensive film, etc
Product width: 2500mm-3500mm
Thickness: 0.2-0.8
Design speed: 10-20m/min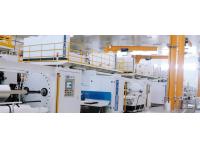 Automatic packaging equipment
In film industry, different kinds of film for different applications are made by different material , most manufacturers supply with slitting machine, the film rolls after slitting need to be protected by packaging during the transportation. SIMCHENG research and develop the automatic packaging machine which can pack the slitted film automatically.
Learn More:http://simcheng.co/products/show-36.html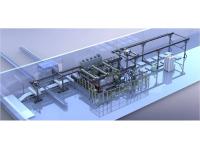 Functional film line
It includes protection film line, wood grain film line, high barrier film line and pet film line .



Protection film is used on metal products surface, coated metal products surface, plastics film surface, automobile products surface, electrical products surface, brand products surface, profile products surface, etc.

For decoration purpose, PP wood grain film can be used on surface of plywood, core plate, fibreboard. With features of high simulation, environmental protection, It is widely used in furniture production and interior decoration.

High barrier film is mainly used on food and medicine packaging, electrical parts sealing, solar battery sealing and OLED sealing.

PET film, which is also called high temperature resistant polyester film, due to its excellent physical property, chemical property, size stability, transparency, recoverability, it can be widely used on magnetic recording, photosensitive material, electronics, electrical insulation, industry use film, industrial film, packaging decoration, screen protection, optical mirror surface, etc.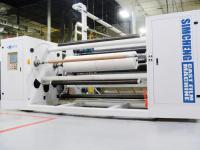 Target Industries
Small Machinery
Parts
Electronic Goods & Parts
Large-Sized Equipment
Hygiene Paper
Hygiene Medical Care
Exhibit Categories
Plastic Films / Containers
Plastic Film Produts
Shock Absorbing / Partitions
Functional Materials
Secondary Packaging Materials
Turn-key Packaging Systems
Hygienic Control Equipment
IT Systems / IT Equipment
Delivery Equipment