Dry cleaner evolve! Keyword is energy saving clean special environment.
New cleaner first appearance!
Highlights
Recognizing flow of production lines, we have developed the devices and systems to achieve labor saving, high productivity and high quality for each process based on our own and highly-developed know-how's. Moreover, we have received high repetitions from the industries on our consultation to improve process effectiveness and rationalization grasping user demands exactly.
Product Information
Ultrasonic Dry Cleaner
Manufacturer who has lineup of single and side cleaner.The highest performance can be achievd in dry cleaner industry,by the highest ultrasonic wave output.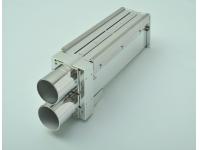 Target Industries
Cereal
Grains
Bread
Dried Noodle
Dried Product
Fresh Noodle
Instant Cup Noodle
Instant Food: Noodle, Soup etc.
Succulent Food
Dried Food
Processed Meat
Frozen Food
Retort Pouch Food
Microwaveable Food
Canned Food
Long Life Food
Disaster Storage Food
Daily Dish / Box Lunch
Japanese Pickle / Tsukudani
Dairy Product
Health Food
Processed Marine Food (Fish-Paste Product)
Perishables: Marine
Perishables: Animal
Perishables: Agricultural
Subdividing Sliced Food
Seasonings / powdery
Seasonings / Liquid & Viscous
Nursing Care Food
Infant Food
Candy
Chocolate
Caramel
Chewing Gum
Cookie
Rice Confectionery
Snack
Bean Confectionary
Fresh Sweets (Wagashi)
Sami-Baked Sweets
Dessert
Yogurt
Ice Cream Confectionary
Tablet Confectionary
Coffee
Japanese Tea / Black Tea
Fruit Beverage
Health Beverage
Refreshing Beverage
Milk Beverage
Jelly Beverage
Beer
Alcoholic Beverage
Nonprescription / Powder & Granule
Nonprescription / Tablet
Nonprescription / Liquid & Viscous
Prescription Drugs
Medical Implement
Skin Care
Makeup
Liquid Cosmetics
Cosmetic Articles
Hair Care
Hair Color
Face Care
Soap
Liquid Soap
Shaving
Mouth Hygiene
Tissue
Small Machinery
Large Machinery
Parts
Electronic Goods & Parts
Heavy Materials
Small-Sized Equipment
Large-Sized Equipment
Major Domestic Appliance
Small Domestic Appliance
Information Equipment
Chemicals
Pesticide
Fiber Product
Natural Fiber Clothes
Synthetic Fiber Clothes
Dustproof Clothes
General Household Article
Hygiene Paper
Hygiene Medical Care
Detergent for Clothes
Detergent for Kitchen
Detergent for House
Aromatic Substance & Deodorant
Insect Repellent & Insecticide
Dehumidifying & Drying Agent
Toy
Electronic Toy
DIY Product
Stationary
Sports Goods
Pet Goods
Pet Food
Exhibit Categories
Paper / Paperboard
Paper-based Containers / Paper tubes
Corrugated Fiber Containers
Plastic Films / Containers
Plastic Film Produts
Molded Plastic Products
Food Packaging: Heat Resistant / Sterilization
Metal Cans / Metal Products
Glass Containers
Caontainers Made of Natural Materials
Binding / Sealing Materials
Shock Absorbing / Partitions
Functional Materials
Secondary Packaging Materials
Inks / Pigments / Coating Agents
Adhesives
Labels / Seals
Heavy Duty Package
Package For Shops / Distribution
Environment-friendly Packaging
Weighing / Counting Machines
Bottling / Filling / Canning Machines
Bag Filling Machines
Container Forming / Filling Machines
Over Wrapping Machines
Labellers / Printers
Small Box Filling / Casing Machines
Sealing Machines
Shrink Packaging Machines
Vacuum Packer / Gas-flush Machines
Box Making Machines
Sealing Machines
Hot-melt Applicators
Binding Machines
Robots
Turn-key Packaging Systems
Printing Machines
Plastics Processing Machines
Bag Making Machines
Cutting / Stamping Equipment
Slitters / Rewinders
Cushioning Material Manufacturing Machines
Can / Bottle / Book Making Machines
Food Preparing Machines
Bread / Confectionery Making Machines
Meat Processing Machines
Dairy Processing Machines
Pharmaceutical Processing Machines
Food Processing Related Equipment
Hygienic Control Equipment
Sterilizing / Cleaning Systems
Washing / Cleaning Machines
Designs
Product Planning / Marketing
Contract / Consulting / Services