We respond to the various needs of our customers with soul-filled molds.
Highlights
Kyoei Print Giken Co., Ltd. is a mold and metal processing manufacturer focusing on the design and manufacture of press dies. We have the processing technology cultivated in the electronics industry for more than half a century and the latest equipment, and we are conducting research and development every day to meet the needs of our customers. At the exhibition, precision press dies for punching various materials such as high-performance films and resins, blade dies that do not require a backing plate, dies for vent holes in plastic resin containers (patent pending), production management system KPG IoT Solution Etc. will be exhibited.
Product Information
Blade type that does not require a backing plate
Sheet members can be fully cut without using a backing plate or carrier sheet. Engraving blade type A full cut is realized without damaging the engraving blade by processing the fine groove processing on the die plate according to the product shape.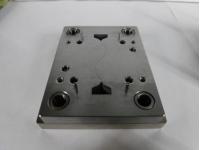 Steam vent processing mold for plastic resin containers
The side surface is sheared at the same time as drawing is formed in any shape by the plastic resin container and vent hole processing method.
When the vents are machined by general press working, there is a risk that scrap will be generated and mixed into the container, but with cut forming, it is possible to machine the vents without scraping. , Safe production is possible.
* Patent applied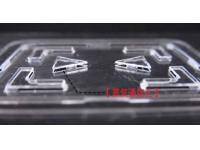 3D shape mold
3D shape is cut according to the shape such as decorative film molded products.
We make 3D molds of various types such as drop-outs, compounds, sculptures, etc.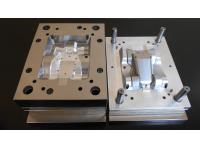 KPG IoT system
KPG IoT system, a production management system that connects to NC machines and general-purpose machines with in-house developed M2M equipment, collects and analyzes data based on FANUC's MT-LINKi, and monitors the operating status using the cloud.
With the KPG IoT system, it is possible to monitor the operating status of machines in real time, analyze working hours, analyze the causes of alarms, and send data for preventive maintenance and failure prediction of machines. By visualizing the value of the factory, we contribute to improving productivity and reducing costs.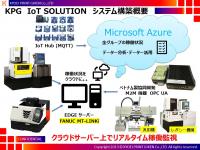 Mirror engraving blade type
It is an engraving blade type finished by mirror cutting with our original method.
The tip of the cutting edge is very sharp and finished only by machine cutting.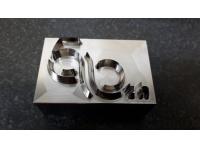 Target Industries
Cereal
Grains
Bread
Dried Noodle
Dried Product
Fresh Noodle
Instant Cup Noodle
Instant Food: Noodle, Soup etc.
Succulent Food
Dried Food
Processed Meat
Frozen Food
Retort Pouch Food
Microwaveable Food
Canned Food
Long Life Food
Disaster Storage Food
Daily Dish / Box Lunch
Japanese Pickle / Tsukudani
Dairy Product
Health Food
Processed Marine Food (Fish-Paste Product)
Perishables: Marine
Perishables: Animal
Perishables: Agricultural
Subdividing Sliced Food
Seasonings / powdery
Seasonings / Liquid & Viscous
Nursing Care Food
Infant Food
Candy
Chocolate
Caramel
Chewing Gum
Cookie
Rice Confectionery
Snack
Bean Confectionary
Fresh Sweets (Wagashi)
Sami-Baked Sweets
Dessert
Yogurt
Ice Cream Confectionary
Tablet Confectionary
Coffee
Japanese Tea / Black Tea
Fruit Beverage
Health Beverage
Refreshing Beverage
Milk Beverage
Jelly Beverage
Beer
Alcoholic Beverage
Nonprescription / Powder & Granule
Nonprescription / Tablet
Nonprescription / Liquid & Viscous
Prescription Drugs
Medical Implement
Small Machinery
Large Machinery
Parts
Electronic Goods & Parts
Heavy Materials
Small-Sized Equipment
Large-Sized Equipment
Major Domestic Appliance
Small Domestic Appliance
Information Equipment
Exhibit Categories
Printing Machines
Plastics Processing Machines
Bag Making Machines
Cutting / Stamping Equipment
Slitters / Rewinders
Cushioning Material Manufacturing Machines
Can / Bottle / Book Making Machines